The Blog chicks team are delighted to have Sally Hillmans permission to publish for our readers her just released top ten champagnes list of 2022. You can view her website and array of champagne gifts here: https://sallyhillman.com.au
It's hard to believe we are fast approaching the penultimate month of the year already.
As family and friends reunite across the country, we have no doubt your social calendars are as bright, inviting and full as an overflowing Santa stocking on Christmas morning. For many, there has never been a greater time for cheer and celebration—and, in our eyes, there is no greater way to toast to the occasion than with a glass or two of champagne!
In honour of the familiar comfort we find when laughing with loved ones amid balmy champagne sundowners, we'd like to share with you our top ten cuvées of 2021. These champagnes have carried us through the highs and lows of the year, accompanied our gourmet adventures in the home kitchen and become veritable pique-nique staples alongside baguette, cheese and charcuterie!
Join us in raising a glass to celebrate champagne and the connection it bestows—life's effervescent tonic for every occasion.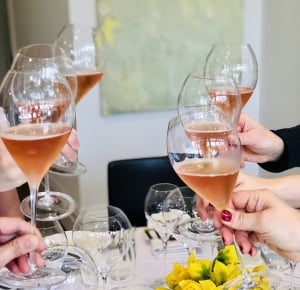 Champagne All Day, Every Day
This year, we surprised and delighted our loved ones (and ourselves!) with champagne gift sets and hampers in celebration of the good days, commiseration for the bad days and everything in between. As we sent joy and well-wishes across the country, bringing happiness and anticipation to both gifters and giftees, the unique calling card of champagne became even more profound and prized: No matter the time and place, champagne is always the perfect pick-me-up present!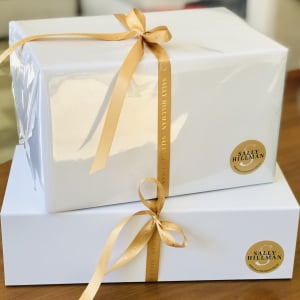 Our everyday favourites: Nicolas Maillart's Extra Brut NV and Larmandier-Bernier's Latitude NV.
A classic blend of 50% Pinot noir and 50% Chardonnay from the Montagne de Reims, Extra Brut is Nicolas Maillart's introductory cuvée, achieving elegant consistency and superb richness with each release. Boasting a high percentage of barrel-aged reserve wines and fresh Chardonnay accents, Extra Brut is festive and versatile in its mesmerising ability to elevate all moments and experiences.
Another generous and enchanting offering is Larmandier-Bernier's Latitude NV. A Blanc de Blancs (100% Chardonnay) champagne, fruit is sourced exclusively from vineyards along the same latitude in the south of Vertus. Here, the Côte des Blancs terroir is rich, imparting a charming and rounded character to the cuvée that instantly transports you to the chalky hillside of the Côte des Blancs with just one stimulating sip.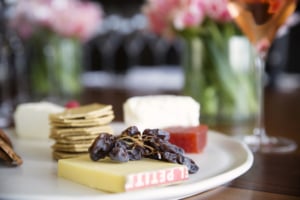 Crowd-Pleasers & Tastebud-Teasers
In similar fashion to our everyday winners, Chartogne-Taillet's Cuvée Sainte Anne NV and Laherte Frères's Ultradition NV are also crowd-pleasing palate-cleansers. Tantalising and delicious, these cuvées accompanied the milestones of the year—birthdays, anniversaries and special days to remember—as well as the turning points of the week—hump days and Fridays (always Fridays!). Expressing a vivid picture of their provenance in their namesake, label art and the tangible taste of terroir itself, these cuvées also offer themselves as enthralling conversation-starters with fellow champagne enthusiasts and epicureans.
Named in honour of the patron saint of Merfy (the village in the Montagne de Reims where Chartogne-Taillet is headquartered), Cuvée Sainte Anne is assembled from several unique and diverse plots planted between 1970 and 2009 in Merfy andry. Saint-Thierry. Comprising 50% Chardonnay with the remainder being mostly Pinot noir and Meunier, fruit is harvested from vines rooted in diverse terroir such as sand, clay and chalk, which ultimately contributes to the wine's distinct vibrancy, opulence and crystalline finesse.
Laherte Frères's flagship cuvée, Ultradition NV, is everything you'd expect—an experience that delivers consistency and delight with each release. The cuvée that Aurélien Laherte is most proud of, Ultradition, remains a blend of Pinot Meunier (60%), Chardonnay (30%) and Pinot Noir (10%) and is remarkable in its ability to highlight individual personalities of each grape variety. Another captivating feature is the special bottle labelling. Previously a replica of a family original, Ultradition's label has recently undergone a new, artistic transformation with the help of Swedish illustrator Hanna Albrektson. Bright and eye-catching with a gorgeous natural scenery illuminated in gentle brushstrokes, the label is inviting and soothing—perfectly attuned to the comfort and pleasure derived from enjoying a faithful classic.
Pique-nique Perfection
As one of the few acceptable reasons for social gatherings, picnics became a sacred privilege for all of us. Each weekend, we set out with arms full of market produce and champagne, kicking off our shoes and laying down on the picnic blanket in the most idyllic, sun-drenched spot. The sensation of firm earth and soft grass caressing our soles (and souls), combined with the merry chatter and melodious sound of feasting and drinking, always left a lasting impression on us—a quaint touch of je ne sais quoi to the simple experience of enjoying the great outdoors with even greater company and champagne. We hope picnics are here to stay because we just can't get enough of them!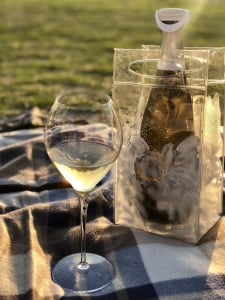 Our top pique-nique champagnes are Louis Roederer's Collection 242 and Rosé 2014, beautifully presented in Louis Roederer gift boxes for entertaining and creating a picture-perfect flat lay.
The first of the Collection series, and a worthy successor to Brut Premier, Collection 242 was inaugurated in September 2021 to much anticipation. From a powerhouse Estate with grower-producer spirit, the intent of the series is to create a modern, expressive wine that reveals the intricate nuances of any given year's harvest. With no two numbered versions of Collection being the same, this represents a philosophical, terroir-driven move away from the traditional Grande Marque approach of producing a consistent House style each year. A thrilling masterpiece that is picnic-approved and pleasure-inducing, Collection 242 heralds a new era of innovation and progress for Champagne Louis Roederer.
Equally special and quintessential for picnicking is Louis Roederer's Rosé 2014. A champagne rosé of great vigour and intensity, this vintage combines ripeness and zesty red fruits with a stimulating, palate-tingling salinity that makes it ideal for food pairing. Comprising Pinot noir (63%) and Chardonnay (37%) cropped from 35 small Estate plots encompassing the Vallée de la Marne and the Côte des Blancs, respectively, Pinot noir is macerated with a small amount of Chardonnay for a long, gentle 'infusion'—a unique method for creating champagne rosé that preserves both ripeness and freshness. Rosé 2014 is deliciously decadent with picnic favourites such as a creamy and tangy egg salad topped with fresh, aromatic herbs or a luxurious wedge of soft-ripened, double crème cheese.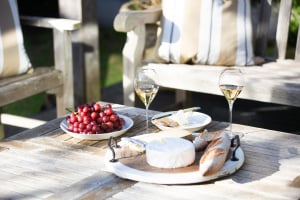 Sunny Sippers
Whether it's a warm spell in autumn, a bout of sunshine after rain in winter, lingering sun-lit days in spring or relaxed, balmy nights in summer, there will always be a need for refreshing Blanc de Blancs and champagne rosé year-round! These champagne styles are crisp and thirst-quenching, ideal as invigorating aperitifs or matched with light starters, salads, fresh seafood or a sliver of aged Comté for the ultimate sundowner pairing.
Served well-chilled on the patio for a moment of alfresco dining, Pernet & Pernet's Les Herbevoies 2015 and Pierre Gerbais's Grains de Celles Rosé NV can be enjoyed throughout the year.
A new and exciting addition to the Sally Hillman portfolio, Champagne Pernet & Pernet is a star in the making. Farming just 9ha of vines in the Côte des Blancs and the Montagne de Reims, the small, qualitative Estate has recently inaugurated three single-vintage, single-varietal cuvées from Chardonnay and Pinot noir, grown in small, organically managed parcels. Stamped with intense minerality—the signature of the Côte des Blancs—Les Herbevoies is a vintage Blanc de Blancs champagne that offers both freshness and maturity with a touch of toast and nuttiness attained through careful winemaking and patient ageing. Eponymously named after the lieu dit(single parcel of vines) it is crafted from, this vineyard is located to the north of Vertus and has a gentle south-east exposure. A wonderful cuvée to savour on its own or paired with a fresh salad of crisp gem lettuce, Cantabrian anchovy, egg and crouton, drizzled with a creamy lemon vinaigrette.
Pierre Gerbais's Grains de Celles Rosé NV is an invigorating champagne rosé, elegantly revealing her terroir in freshness of fruit and fragrance. Paying homage to Pierre Gerbais and his devotion to cultivating distinct vineyard soils after World War II, this champagne rosé is the bottle incarnate of Pierre's life's work in diverse terroir selection and an exact representation of the Domaine's holdings today, which comprise 50% Pinot noir, 25% Chardonnay and 25% Pinot blanc. The addition of red wine (5% Coteaux Champenois Rouge, a 100% still Pinot noir) produces this vibrant, refreshing and accessible champagne rosé with just enough tannic grip to complement all meals, any time of the day and season.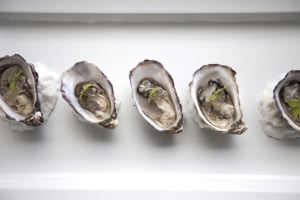 Food & Wine for Thought
At Sally Hillman, we believe champagne is incredibly versatile with all manners and styles of cuisine. Stimulating, citrus-focussed Blanc de Blancs find natural affinity with freshly shucked oysters, while ample, generous Blanc de Noirs have the textural weight and vinosity to support hearty, savoury dishes. Together, the natural high acidity and cleansing effervescence of champagne freshen the palate and prime the tastebuds, ready for the next delicious bite—a distinctive quality and unique point of difference that makes champagne the king of all beverages.
Jm Sélèque's Solessence Rosé NV and Nicolas Maillart's Montchenot NV are the gastronomic cuvées we have found ourselves reaching for time and time again to accompany our culinary creations for home entertaining.
The latest release of Solessence Rosé is based on the 2018 vintage, comprising a champagne blend with the addition of skin-contact Meunier and Coteaux Champenois Rouge. Red fruit and savoury notes are impressed on the palate as intense and magnificent minerality lend textural complexity and nuance, making this the ideal champagne rosé to serve with salmon sashimi, traditional spanakopita or beef bourguignon atop buttery roast potatoes.
Special Mentions & Self-Care Indulgence: Champagne Suenen
Reminders to check in with ourselves and each other have never been more important.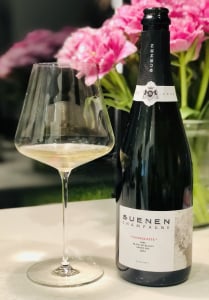 Whether that meant hitting the snooze button and enjoying a second sleep-in on the weekends; donning bright, colourful clothes to lift spirits; practicing meditation; or simply calling up friends and family to say bonjour, we found meaningful ways to overcome adversities and reconnect with our loved ones in 2021. From curating virtual tasting experiences to special moments of self-care indulgence, we made time to pamper ourselves and each other with unique champagne gift sets and hampers, bringing happiness, well-being and connection to the mind, body and soul. As we like to say—no matter the time and place, champagne is always the perfect pick-me-up present! And nothing says 'treat yourself' like a very rare and exceptional bottle from Champagne Suenen, such as the Oiry NV or Les Robarts 2014.
A Blanc de Blancs specialist, Aurélien Suenen cultivates just over 3ha of vines across the Grand Cru villages of Cramant, Chouilly and Oiry in the Côte des Blancs, as well as a small parcel of ungrafted Meunier in the village of Montigny-sur-Vesle at the very edge of the Champagne appellation. One of the highest-rising stars of the grower-producer movement in the past 15 years, Aurélien produces very small quantities of both vintage and non-vintage champagnes that showcase a single village or vineyard. With 50% of the Domaine's total holdings located in Oiry, Aurélien is currently the only grower-producer vinifying Blanc de Blancs cuvées derived solely from Oiry vines (Oiry NV), precisely extracting the profound depth of minerality and salinity from the compact Campanian chalk and providing a unique opportunity to taste an exclusive Grand Cru terroir.
Another stellar offering from Aurélien is Les Robarts 2014. A fabled and outstanding terroir, this lieu dit straddles the border between the Grand Cru villages of Cramant and Avize in the Côte des Blancs. Renowned as one of two sources that make up Champagne Agrapart's legendary Avizoise cuvée, Aurélien's parcel lies at the top of a small hill in Cramant with 70% of vines exposed to the south and 30% exposed to the north. The vines sit on clay-rich soil over upper Campanian chalk, creating a powerful Blanc de Blancs champagne with notable tension, salinity, concentration and an incredibly polished texture derived from pervasive terroir and meticulous winemaking.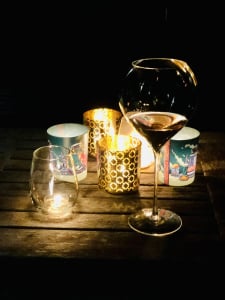 Thank you for joining our Top 10 Countdown for 2021, along with a few extra special champagne mentions! We hope you continue to find moments of magic and intrigue in your own champagne journey as we endeavour to bring more in 2022!
Merci et santé!
Sally Hillman – Celebrating Champagne is one of Australia's leading online retailers of fine champagne, Lehmann glassware and champagne gifts for corporate & special occasions. They have also become well known for creating bespoke champagne experiences and virtual tastings.
Specialising in the flourishing world of boutique grower-producer champagne, Sally Hillman Founder and Principal is personally available to guide you on your journey of discovering the irresistible magic and sophistication of champagne.